I'm not sure if I had written a Christmas post before on this iteration of my blog, but I didn't know what else to write as the title. I do remember that first Christmas in the year I set this up though – it was the year of the lockdowns 2020, and on Christmas day, I realised that I had Covid-19 (I got confirmation two days after).
Today, I spent it alone again – as I tend to do in the UK, except for in 2011 and 2012, and again in 2017) – having been in Malaysia last year to spend time with mum and the family (seeing them for the first time since the Covid-19 pandemic.
This post is then mostly for posterity – I'm aware I haven't updated this much but so much has happened over the past year or so – and to continue some reflections on life in the era of Covid-19. While things seem to have returned to 'normal' in the UK, whatever it is, I've been very concious over the past couple of weeks of not putting myself too at risk since I didn't want to spend another Christmas unwell. After all, the cold/flu-ey thing I had in November took 2-3 weeks for me to shake off the sore throat and cough, so I didn't want to fall ill again. So many people I know are going through with it now.
Today, I started my day with a run. It's become somewhat of a Christmas tradition for me when I'm on my own, except for the couple of times I woke up with a terrible hangover. I was hoping to wake up a bit earlier for my run but I slept in a bit. Still, it was a lovely run – my knee is slightly injured so I was a bit worried, but it was nice to have basically all of Birmingham city centre to myself (and a few others) since it was so quiet.
I took a longer route than usual, and ended up with almost 2km walk back so I ran a bit more and decided to call my mum to catch up with her. Then, it was time for a shower (treated myself to a face mask pampering) before I popped open a bottle of Buck's Fizz, made some breakfast (prawns on a baguette) and then opened my presents while watching Luke Evan's Showtime concert.
Then, it was just a day of lazing around – a bit of gaming (Hades), making more food (lactose-free garlic bread), texting and catching up with friends and then a short nap as I put potatoes and a chicken in the over to roast. After I woke up, I made the vegetables and voila – Christmas dinner, as you can see below.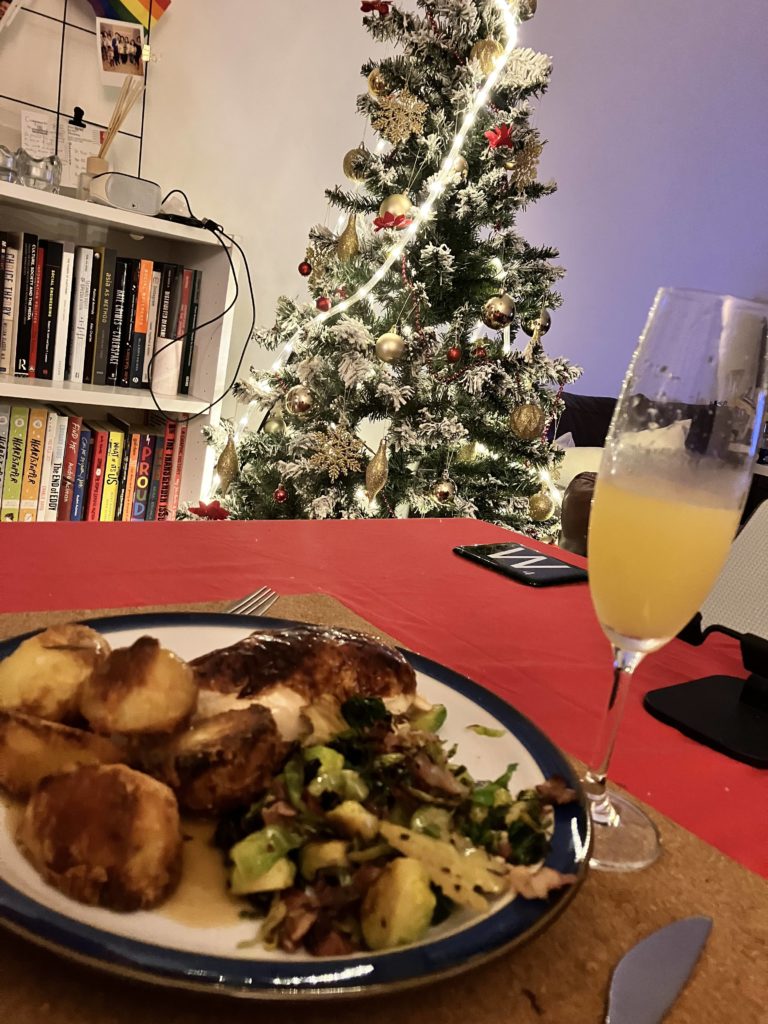 It's almost 9pm now and I'm ready for bed but I didn't think I should go to bed so early (for fear of waking up in the middle of the night) so I've put the laundry on!
Really, there was little point to the post but hey, this was supposed to be a blog of record, right?
Happy Christmas, one and all!